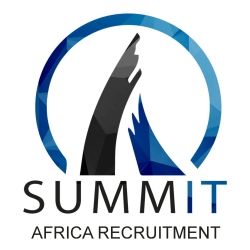 SUMMIT Africa Recruitment
Cape Town, South Africa
Contact
Office 2, 23 Arthurs Road, Seapoint
Office 2, 23 Arthurs Road, Seapoint
Seapoint
Cape Town, South Africa
8060

0214331387
Please view all available positions below. If you do not find what you are looking for, please submit your profile to SUMMIT Africa Recruitment.
About
Operating in both Cape Town and Johannesburg, SUMMIT fills positions in Retail, Finance and Digital companies that are evolving and expanding. SUMMIT is a specialist recruitment agency with a team of experts who have years of experience in the industry. SUMMIT consulting is aware of issues which arise in today's corporate world. Hence, we make it our priority to find paramount talent.
We have a thorough process to keep all parties satisfied and can assist you with recruitment through our service offerings. A business cannot exist without qualified and motivated people. With our rapid pace of evolving markets and technology, it is of utmost importance to identify and hire qualified and experienced people.
Our aim is to assist companies to achieve their goals by sourcing the top finance and IT talent. We believe that by collaborating the employer and employee, candidates can achieve their career goals by being placed with the best suited companies.
Integrity and loyalty is one of our core values. We aim to build strong long lasting business, as well as personal relationships with our clients and candidates.
IT Recruitment
In a fast growing IT world the demand and scarcity of tech talent is inevitable. We have a team of knowledgeable IT recruiters ready to match the perfect candidate with the top skillset with the right position
Finance Recruitment
We cover all sectors and levels of positions within the finance sector and have a team of experts ready to provide a professional and efficient service. We cover all positions within a multitude of sectors and industries and specifically in the Financial Services and Asset Management Industry.
Digital Recruitment
The rise of digital media platforms has resulted in a higher demand in talent to sustain its growth. SUMMIT is a specialised digital recruitment agency focused on finding and placing the best digital talent in South Africa across all industries.
Marketing Recruitment
Assisting companies in filling Executive and Junior level marketing positions in both the digital and direct space.
Media Recruitment
Recruitment agency specialising in social media, digital media, media marketing, copywriting and graphic design.
Networks
Networks are the building blocks of social capital. They bring people together with a sense of common purpose based on shared values and identity. They also enable us to exchange information, debate and discuss matters, and give and receive support. Almost all of us belong to networks. A network can be informal – such as a family, group of friends, neighbourhood, or community group – or formal – such as local government, the courts, trade unions, or a workplace.
Trust
Trust is needed to build social capital, and it can also be an outcome of it. If we can trust that other people mean what they say, and that they will do what they say they will, then this will save us time and energy.
Team Spirit
One of the best ways in which you can encourage others to work towards the same goal is to achieve a team spirit; a team spirit is an atmosphere in which each individual works as part of a team.
Many things can stand in the way of creating a team spirit such as individuals that do not agree or get along, failures that have already occurred and individuals that do not necessarily dislike each other but do not get along as they do not know or trust each other.
Persistence and Persuasion
An excellent method of convincing people that they should work together to achieve the same goal is by convincing them that they will all receive a reward from doing so; whether this be pride in their achievement or a physical reward.
If you aren't willing to give a physical reward to the individuals if they complete the goal, you have to encourage them to work together by influencing them and leading them to believe that they will be rewarded psychologically, emotionally or through the praise of others for what they have achieved together.